White Paper
As our hearts are immersed in the global crisis of COVID-19, and our hands are busy creating a safe place for our families, we recognize that our clients are also carrying on with their transfer pricing responsibilities. In the spirit of a pragmatic, intellectual distraction for you, we share our insights below and are available to join you on a call or Zoom video to brainstorm your transfer pricing implications, or simply to connect and "change the channel" for a moment. No formalities required, dogs and cats are welcome, children are encouraged; it is our gift to you.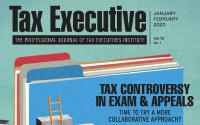 Publication
The Experts: Kathrine Kimball, Sofie Stas, and Su Merck 
Question: Why should a "non-digital-born" company be concerned about digital tax? 
Read the feature here.